Tempo Traveller from Amritsar to Manali
Tempo Traveller hire for Manali tour from Amritsar. Manali Tempo Traveller Package Holidays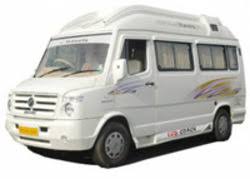 Karan Car Rental offers tempo traveller rental services to all our customers at affordable price with the wide range of tempo travellers such as 9 seated tempo travellers, 10 seated tempo travellers, 12 seated tempo travellers and 17 seated tempo travellers from Amritsar to Manali. All our vehicles are well maintained and documented. We enable our customers in customizing the right package that suits best to the customer's preference, and requirement.
There are many ways to go from Amritsar ​to Kullu Manali. The most comfortable and speediest option is to get a outstation Tempo Traveller rental.
Distance from Amritsar ​to Manali ​by car / tempo traveller is around 450 ​Kms. Estimated travel time traveling from Amritsar ​to Manali ​by a dedicated car is 10 hours and 30 minutes.
Book 9 Seater Tempo Traveller on Rent in Amritsar to Manali,
12 Seater Tempo Traveller on Rent in Amritsar to Manali,
14 Seater Tempo Traveller on Rent in Amritsar to Manali,