Tempo Traveller Hire in Amritsar
Tempo Traveller Rental Services Amritsar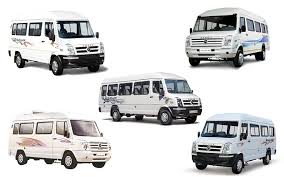 Rent A Tempo Traveller in Amritsar to enjoy the Himachal, Uttrakhand, Rajisthan & Srinagar Tours.
We have a large range of Luxury Tempo Travellers & 12 seater small isuzu mini buses for many type of rental plans and packages that the Hirer can choose according to his requirement.
TRANSFERS:
We provide the best and economic transfer service. This is for the travelers who want only pickup and drop to a particular location within confined prices. The places include airport, hotels, railway station, bus stand or any other local area visiting. We even meet your urgent requirements in a very short period of time.
LOCAL SIGHTSEEING:
For the travelers who want to travel within the territory of the city we have two schemes and plans from which client can select conveniently.
A – HALF DAY
–
This is a package where client can use service for 4 hr and 40 km. It can be hired at any time of the day even at late evenings. Here customer can finish off his work and enjoy more as he is left with his kms and hours.
B – FULL DAY –
This is a full package where customer can use cab for 8hr 80km as per his wish to relish travelling .Client can visit any spot within city, in case client wants to extend his service he is free to do so by contacting helpline numbers by paying extra charges.
TOURS FROM AMRITSAR:
A Traveler can commence his trip from Amritsar to other, hill stations , pilgrimage, business meetings etc. to meet their desired purpose. To make things easy and help customers we have divided it into 3 packages.
One way Drop -
For people who only want to reach other city as per their interest and requirement. This is also for people who want to cover multiple cities and leave cab there itself to move further.
Round Trip –
This works best with the people who want to go / visit some place in other city and return back the same day . The traveler can also go to multiple places in same day and return back.
Multi-city –
For people who plan tours where they travel in multiple cities for specific number of days. Here person has no limits as he can go anywhere he wants to go from Amritsar for multiple number of days. Person can come back Amritsar or request drop in any other city also. This package works best for multiple day trips with many cities.
OTHER SERVICES –
We also provide a set of customized packages to meet the desired requirement of guests, customers, school trip , business trip and meeting.
We have a large fleet of 12 seater, 14 seater and 17 seater luxurious tempo travellers and Super Luxurious 12 seater SML ISUZU Coaches driven by our humble and experienced Chauffeurs.