Innova Crysta Hire in Amritsar
Innova Crysta car hire in Amritsar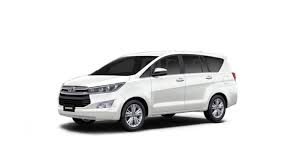 The economy luxury car - available in 6 and 7 seater. Innova Crysta Car is best and highly demanded in taxi sector. Innova Crysta is very comfortable car for long distance travel. We have all newly model innova Crysta car rental in Amritsar Airport. Innova Crysta fit on every tourist's budget because of its reasonable rates for Local Hire and Outstation Tour booking from Amritsar. It is known for most comfortable car in all sector whether it is for Long drive or Hilly roads of india.

Cost for Innova Crysta - 1 Day City Tour: Rs.2500
Limit: 8 Hours/80Kms
Extra Km: Rs.15 Per Km
Extra Hours: Rs. 200 per Hour
Note: Tolls, Parking & Taxes extra as applicable.

Car Name: Toyota Innova Crysta.
Air Conditioned: Yes.
Driver: Uniformed, Well trained & experienced.
Seating Capacity: 6 & 7 Passengers + 1 Driver.
Manufacturer: Toyota.
Seat Covers: Neat,clean, hygienic seat covers.
Doors: 4 Doors.