35 Seater Bus Rentals in Amritsar
35 Seater Luxury Bus Hire in Amritsar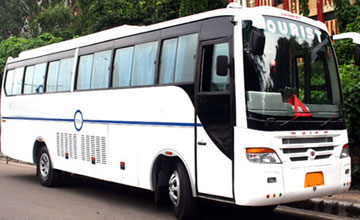 This 35 Seater coach rental in Amritsar is the ideal choice for those who want the best of both worlds when it comes to transport.
"Karan Car Rental" is the name where you can choose best class bus rentals and cabs on hire for travel to North Indian Destinations
It has the comfort and flexibility of our smaller vehicles but, with 35 seats, is aimed at those with bigger groups to shuttle around. Thanks to its comfortable seats and on-board washrooms facilities, it's also got the extra features that people associate with our larger vehicles.
We offers family tour packages, pilgrimage packages, Himalayan tour packages, honeymoon tour packages. We provide pre-defined packages and highly customised packages for the customer needs and travel plan.
We have exclusive tour plans and short trips for Amritsar with Himachal Pradesh for better travelling experience, Kids play & cultural trips, Enjoy Education Tours.
35 Seater Luxury Bus Hire Amritsar To Chandigarh

35 Seater Luxury Bus Hire Amritsar To Delhi

35 Seater Luxury Bus Hire Amritsar To Agra

35 Seater Luxury Bus Hire Amritsar To Jaipur

35 Seater Luxury Bus Hire Amritsar To Shimla

35 Seater Luxury Bus Hire Amritsar To Manali

35 Seater Luxury Bus Hire Amritsar To Katra

35 Seater Luxury Bus Hire Amritsar To Punjab Tour

35 Seater Luxury Bus Hire Amritsar To Haridwar

35 Seater Luxury Bus Hire Amritsar To Uttarakhand

35 Seater Luxury Bus Hire Amritsar To Dalhousie

35 Seater Luxury Bus Hire Amritsar To Dharamshala

35 Seater Luxury Bus Hire Amritsar To Char Dham Yatra