27 Seater Coach Rentals in Amritsar
27 Seater Bus Hire in Amritsar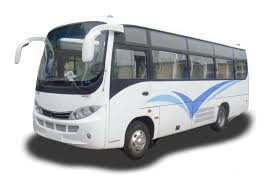 We offer 27 Seater Bus on hire/rental services from Amritsar to all over North India Tour Packages like Amritsar Tour, Amritsar to Dalhousie, Dharamshala Tour Package, Shimla Manali Tour Package, Katra Vaishno Devi Bus Hire, Delhi Agra Jaipur tour Package, Golden Triangle Tour, Chardham Tour & Local Sightseeing In Amritsar.
Book your 27 Seater AC Luxury Bus and experience the wonderful journey with your family or friends. And we are also offering cab service for corporate people, van/bus rental service for working professionals, school & college students.
Karan Car Rental provide services for our client's by guarantees its tourists every trip unforgettable and interesting.
27 Seater Luxury Bus Hire Amritsar To Chandigarh
27 Seater Luxury Bus Hire Amritsar To Delhi
27 Seater Luxury Bus Hire Amritsar To Agra
27 Seater Luxury Bus Hire Amritsar To Jaipur
27 Seater Luxury Bus Hire Amritsar To Shimla
27 Seater Luxury Bus Hire Amritsar To Manali
27 Seater Luxury Bus Hire Amritsar To Katra
27 Seater Luxury Bus Hire Amritsar To Punjab Tour
27 Seater Luxury Bus Hire Amritsar To Haridwar
27 Seater Luxury Bus Hire Amritsar To Uttarakhand
27 Seater Luxury Bus Hire Amritsar To Dalhousie
27 Seater Luxury Bus Hire Amritsar To Dharamshala
27 Seater Luxury Bus Hire Amritsar To Char Dham Yatra